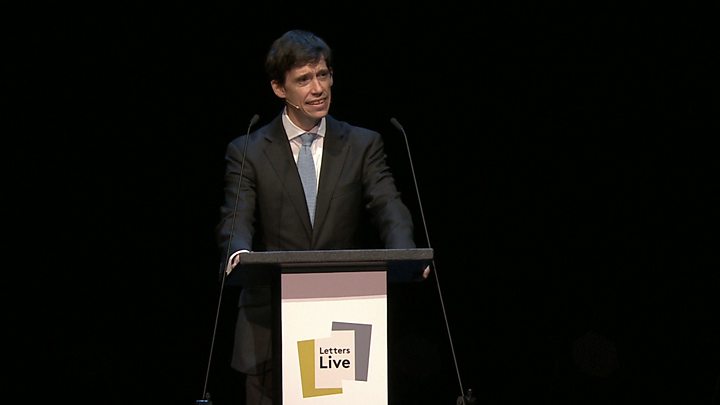 Former Conservative leadership candidate Rory Stewart is quitting as an MP to run for London mayor as an independent candidate.
He will stand in next year's election against current Labour mayor Sadiq Khan and Tory candidate Shaun Bailey.
Mr Stewart tweeted it had been a "great privilege" to serve Penrith and The Border for the last 10 years.
He was expelled from the Tories in the Commons with 20 other Brexit rebels, but remained a member of the party.
Mr Stewart announced his intention to stand for London mayor in a video on Twitter, saying: "I'm leaving that gothic shouting chamber of Westminster.
"I'm getting away from a politics which makes me sometimes feel as though Trump has never left London and I want to walk through every borough of this great city to get back to us on the ground."
General election
His Conservative rival, Mr Bailey, said he welcomed "any candidate's decision to stand and hold Mr Khan to account over his woeful record in London".
He said he would "continue to focus on serious violent crime and how we're going to get a grip on the violence on our streets".
Labour leader Jeremy Corbyn tweeted: "Rory Stewart wholeheartedly backed Tory cuts that have ripped the heart out of our communities and done so much damage to our police, NHS and schools. He would be a disaster for London."
It comes after Mr Stewart's announcement that he was stepping down as an MP at the next election and quitting the Conservative Party.
The next scheduled general election is in 2022, but it is widely anticipated a snap poll is imminent, with the prime minister urging MPs to support his call for one. The London mayoral election will be held on 7 May, 2020.
'Increasingly aggressive'
In an interview with London's Evening Standard, Mr Stewart said: "It's always difficult to run against your own party. It's been a painful journey for me. I suppose it was really crystallised when I had the Conservative whip removed.
"I've been proud to be a member of the Conservative Party. There are many values I share with it. I parted company largely over Brexit and the tone of the party, which has become increasingly aggressive."
He has also written an open letter to Londoners in the paper, saying he will make a stand against the "mutual insults… lazy habits, half-baked ideas and pointless compromises" of party politics.
Mr Stewart first publically mentioned his resignation on stage at a charity event at London's Royal Albert Hall on Thursday evening, but it was not widely reported.
'Great shame'
Writing for his constituency newspaper, the Cumberland and Westmorland Herald, Mr Stewart said: "As you will be aware, I am no longer allowed to run as Conservative MP in Penrith and The Border."
He said he was "hugely grateful" for the support he had received from members of his local party, but added: "It should be no secret that there are also local party members who would rather I did not run again."
Robert Craig, president of the Penrith and The Border Conservative Association, said Mr Stewart may not have resigned if he had not had the whip removed by the prime minister, adding: "It's a great shame."
A Conservative Party spokesperson said: "We would like to thank Rory for his hard work and wish him all the best for the future."
A Conservative parliamentary candidate for Penrith and The Border will be selected "in due course", a statement added.
Who is Rory Stewart?
Raised in Perthshire, educated at Eton and Balliol College, Oxford
Worked as a summer tutor to Prince William and Prince Harry
Served in the UK Diplomatic Service and in 2003 became deputy-governor of two Iraqi provinces
Walked for 21 months across Iran, Afghanistan, Pakistan, India and Nepal, which led to a bestselling book
Elected as an MP for Penrith and The Border in May 2010
Former international development secretary and prisons minister
Remain supporter in the 2016 referendum, he went on to back then prime minister Theresa May's withdrawal deal.
Dark horse candidate in June's Tory leadership contest with social media "Rory walks" campaign, eventually coming fifth
Revealed he had smoked opium in Iran, a Class A drug in the UK, later saying it was a "stupid mistake"
Amid speculation about his future last week, he tweeted: "The only thing I am launching next week is my 4 year old's model boat"
Prime Minister Boris Johnson expelled 21 MPs from the Parliamentary party at the start of September after they rebelled against him in a bid to prevent a no-deal Brexit.
Some long-serving figures – such as Ken Clarke and Sir Nicholas Soames – are planning to stand down at the next election, while others, such as former Chancellor Philip Hammond and former attorney general Dominic Grieve – are reported to be considering standing as independents.
Sam Gyimah, another of the expelled rebels, who has now joined the Liberal Democrats, tweeted that Mr Stewart's decision to step down as an MP showed the Conservative Party's "soul has been captured by those who want to turn it into a nationalist party".
Former Tory MP Nick Boles, who resigned from the Conservatives earlier this year, tweeted that Mr Stewart's departure showed that the "last rites are being read for moderate One Nation conservatism".
Mr Stewart's former cabinet colleague, Amber Rudd, tweeted, before Mr Stewart announced his London mayoral candidacy, that he was an "outstanding minister" and it was a "loss" to politics.
But Conservative MP Shailesh Vara said Mr Stewart's departure did not make the Conservatives "any less One Nation".
Who are the other London mayoral candidates?
wireless cctv systems installation richmond hill